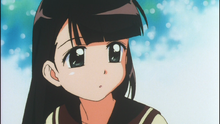 Rin Todoroki is one of Suguru's friends. She hangs out with Miyuki and Chizuko most of the time, and proves herself as the most mature one of the group, not just in personality but in body as well.
Biography
Edit
Personality
Edit
Unlike the other girls in Triomatic, Rin is more ladylike, but is still just as loyal to Suguru and even shows to have an attraction to him.
Voice Actresses
Edit
Asami Sanada (Japanese)
Melissa Fahn (English)
Rebecca Forstadt (English, Something More Beautiful episodes 1-4 and 12-14)
Ad blocker interference detected!
Wikia is a free-to-use site that makes money from advertising. We have a modified experience for viewers using ad blockers

Wikia is not accessible if you've made further modifications. Remove the custom ad blocker rule(s) and the page will load as expected.