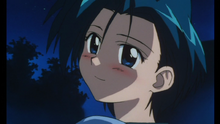 Miyuki 佐倉深雪(さくら みゆき) is one of Suguru's childhood friends. She helps her parents run a public bath house. Acting like a tomboy most of the time, she has some attraction to Suguru.
Biography
Edit
Personality
Edit
Miyuki often acts as a tomboy unlike the other members of Triomatic. She is, however, just as loyal to Suguru as the others and seems to have some sort of attraction with him.
Voice Actresses
Edit
Yumi Kikuchi (Japanese)
Michelle Ruff (English)
Ad blocker interference detected!
Wikia is a free-to-use site that makes money from advertising. We have a modified experience for viewers using ad blockers

Wikia is not accessible if you've made further modifications. Remove the custom ad blocker rule(s) and the page will load as expected.